Planning a trip to Italy and wondering what to buy in Italy to take back home, as the perfect Italian Souvenirs? Then this guide will hopefully inspire your purchase with these 19 stunning Italy Souvenirs suggestions.
Italy is a truly wonderous country to explore, from the 'Eternal City' of Rome to the glorious and historic city of Florence, to chich Milan, or charming Puglia, there is a surprise around every corner.
With so much diversity of Italian sights, landscapes, flavours, and traditions all crammed into one amazing country, it's hardly a surprise at all that Italy features on almost every traveller's wishlist and should definitely be visited at least once in a lifetime!
If you're planning a trip of your own, then you'll no doubt want to buy an Italy souvenir or two, or three, to remember your Italian adventures by! And that's exactly why we wrote this Italian souvenir guide, to help inspire you to find and buy the very best souvenirs from Italy!
Regardless if you're looking for the perfect Italian food item, perhaps a book about Italy, or a stunning jewellery piece, this guide has you covered!
Disclaimer: This post contains links to services or products that I trust and recommend and from which I may earn commissions. Read our privacy policy for more.
Pssst…Have you packed all your essentials? Make sure to read our European packing list post to ensure you've ticked all the packing necessities off your list!
What to Buy in Italy – The Best Souvenirs in Italy!
Finding the perfect Italy souvenir to remember your travels by or even a gift for a friend back home can be tough. Luckily, Italy is filled with many wonderful souvenirs – whether you're a foodie, fashionista or into interior design, you'll find the perfect memorabilia for you.
Limoncello
The zestiness of Limoncello is arguably one of the most quintessential Italian flavours you can get. This well-known Italian liqueur was originally produced in the region surrounding the Amalfi Coast. Today, it's produced and sold throughout the country. So why not take this home as your Italian souvenir to share with your friends?
Wine
While most people immediately think of pizza and pasta when talking about Italy, the country is also a prominent wine producer. Personally, I think the best way to choose vino as a souvenir is to go to the vineyards and sample them yourself. Most wine estates will ship your order straight to your home address, making it an easy Italian souvenir to get.
Tuscany is famed for its winemaking, and some of Italy's best wines come from the sunny region of Puglia.
Depending on where in Italy you're travelling from, you may want to check out and book one of these top wine tours in Italy!
Italian Olive Oil
Good quality olive oil is a staple in any Italian kitchen. So why not take this authentic Italian souvenir home with you and use it to recreate your favourite dishes? If you happen to find yourself in Italy in Autumn, you'll be treated to some freshly harvested olive oil.
Whilst there, consider booking one of these Olive Oil tasting tours in Italy and choose your favourite to buy from!
Italian Cookbook
If you're a foodie planning to take some delicious Italian foods back home, then a cookbook is the perfect accompaniment. This way, you'll get to recreate some authentic cuisine for your family and friends back home.
If your trip to Italy is still some way off and you want to get your hands on a great Italian Cookbook, then you're in luck! You don't have to travel all that way, instead, get this wonderful Old World Italian cookbook today!
Grappa
While in Italy, you're bound to come across this hard liquor. Pressed from Italian grape seeds and skins, it certainly packs quite a punch. Consider taking this back home as an Italian souvenir and toast to the wonderful memories you made on your trip through Italy.
Traditional Balsamic Vinegar
Balsamic vinegar may seem like a strange suggestion for a souvenir from Italy. But, this particular balsamic vinegar comes from Modena, Italy and took between 12 and 25 years to make. I think you can understand why it was included in this list.
Artisanal Chocolate
While most people typically associate artisanal chocolates with Belgium or France, Italy also produces a delectable selection of these goodies. Available in a range of different and colourful shapes and sizes, artisanal chocolate makes for an ideal Italian souvenir.
Some of the top artisanal brands that offer premium quality chocolates are Caffarel, Perugina and Venchi. You really can't go wrong with any of these.
Italian Ceramics & Pottery
You simply can't go wrong with ceramics from Italy either!
If you want to take a souvenir back from Italy that will last a lifetime, look no further than Italian hand-painted ceramics and pottery. You'll find a wide variety of these goods in the regions of Tuscany and the Amalfi Coast. From plates and teapots to spoons and jars, there's a perfect 'made in Italy' souvenir for you.
Murano Glass
These stunning glass decor items make for a special Italian souvenir. Made from silica, limestone, soda and potassium, these vibrant glass objects come in all shapes and sizes. They're named after the location in which they were first made, Murano, which is an island north of the city of Venice.
Why not consider booking a Murano glass factory tour and glass blowing demonstration and peek into the fascinating world of glass blowing in Italy!
Perugia Tablecloths
Wanting to take a piece of Italian art back home with you to remember your trip to Europe?
Then you should consider getting a linen tablecloth from Perugia. These white tablecloths feature blue geometrical patterns and have been popular since the 13th century. In fact, they've been so admired that they've featured in paintings by renowned artists such as Siena's Pietro Lorenzetti.
Lion Door Knockers
As you stroll through the streets of Venice, you're likely to notice the endless array of impressive brass door knockers. These either feature a human or lion head, with the latter being a symbol of Venice.
These beautiful Venice souvenirs are bound to add some Italian flair to your home.
Venetian Masks
One of the most famous souvenirs from Italy, the Venetian mask, has a fascinating history. These elaborate masks were worn to protect the identity of individuals. This meant that all citizens remained equal. They were often worn during undercover business activities or at promiscuous events.
While you stroll through the city, admiring some of Italy's famous landmarks, you'll find both cheap imported masks from China as well as unique hand-crafted masks to choose from.
Leather Goods
Some of Italy's most popular products include leather goods. From leather jackets and shoes to bags and belts, there's a timeless Italian souvenir waiting for you.
One of the best places to go shopping in Italy for these goods is in Florence, where artisans have been perfecting the production of leather goods since the 13th century. These also make for great Italian gifts for friends or family back home that will last a lifetime!
Burano Lace – Venice, Italy souvenirs
As famous as Murano Glass, this cherished lace is a true work of art. It originally came from the Island of Burano, which is just an hour boat ride from Venice.
The lace is made through a complicated technique, and most are made using machines, not by hand. Today you can buy many items which incorporate the Burano lace, such as scarves, tablecloths, and serviettes. But beware, some stores will try to pass off lace made in China or Taiwan as Burano lace, so be sure to check the label.
This intricate and gorgeous lacework is yet another special Italy souvenir to remind you of your time exploring Venice and its surroundings!
Gold Jewellery
If you're looking to buy yourself a quality Italian souvenir, then gold jewellery is just the thing for you. Most gold sold within Italy is at least 18 karats, and artisans make a variety of beautiful accessories.
While this is a more expensive souvenir, it's likely to last for decades to come – you could even pass it down to your children. If you're looking to buy this type of souvenir, consider heading to Florence and finding a gold artisan shop along Ponte Vecchio. Or you could treat yourself to some designer jewellery from a high-end Italian brand like Bulgari.
Italian Stationery
Love the thought of writing on hand-painted paper using a chic, premium pen? Or perhaps a diary bound in leather? Well, you can find this and so many more elegant stationery items from Milan through to Venice.
Florence and Venice are especially well known for these Italian souvenirs. These will make for a particularly special gift for yourself or family and friends.
Rosary & Other Religious Items – Rome Souvenir
Do you practice Catholicism and are travelling to Italy to visit the Vatican? Or perhaps you're simply interested in learning about this branch of Christianity. Whatever the case may be, a rosary or crucifix will make for an exceptionally special reminder of your time here in Rome, Italy.
Magnets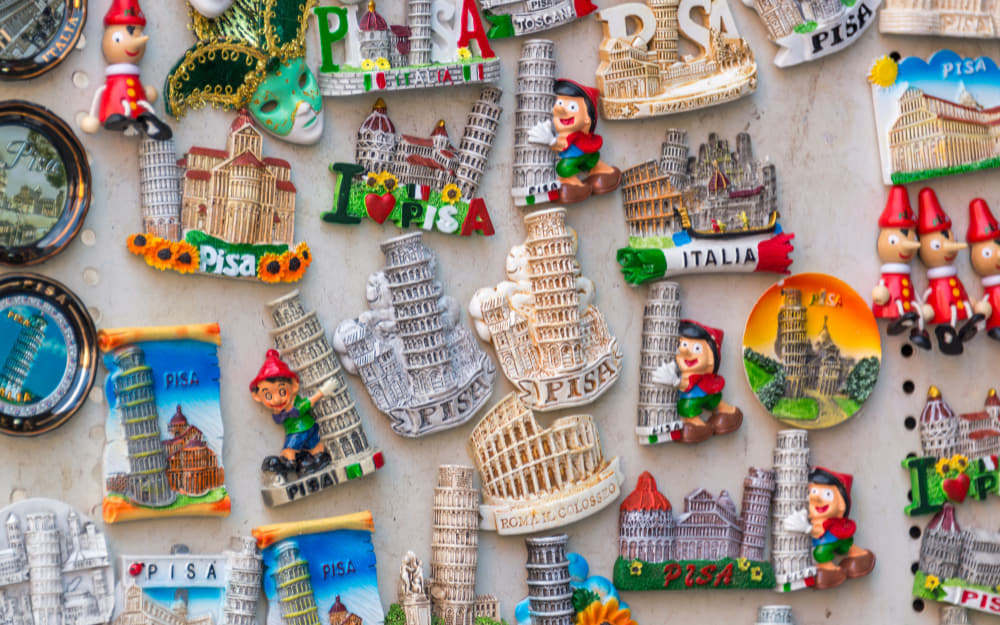 Magnets are possibly one of the most collected souvenirs across the world. It's easy to see why – they're pretty, inexpensive, and lightweight!
Whether you're visiting Milan, Rome, Bologna, Siena, or just about any other place in Italy, you'll stumble upon souvenir shops selling an interesting array of magnets to choose from!
Postcards
Postcards are another easy Italy souvenir. Like magnets, they're relatively inexpensive, have beautiful pictures, and are easy to transport. A great idea with these is to write down your memories from the destination you bought them at and post the card to yourself. This way, you'll have an Italian souvenir waiting for you back home as well as a collection of your most treasured memories.
Tips on Buying Italian Souvenirs
Shopping for the perfect Italy souvenirs is so much fun. However, there are some important things to consider before going ahead with your purchase:
Be sure that the souvenir is authentic – check for its certification – especially when purchasing high-value items.
Shop for items that come from the region you're in.
Have an idea of what type of souvenirs you want to get before you go on your trip.
Check to see if any regulations or shipping costs will influence whether you can get your souvenirs back home. Some countries may impose a limit on the amount of alcohol, tobacco, or even the type of food products entering from a foreign country. Be sure to research this ahead of time.
Always buy quality over quantity.
Make sure you leave enough space for all your Italy souvenirs in your luggage.