Want to know what to expect from the weather in Greece in October?
When considering when to visit Greece, most visitors immediately opt for the scorching hot summer months of July through September, even more so as Greece is known for its gorgeous Greek Isles with crystal clear waters and gorgeous beaches.
But it's worth remembering that the weather in Greece in October is still good enough to have a fabulous time to make the best of your Greek vacation!
In this guide I'll outline all you need to know about visiting Greece in October, especially relating to the weather.
Disclaimer: This post contains links to services or products that I trust and recommend and from which I may earn commissions. Read our privacy policy for more.
Before you go, be sure to plan & book your Greece Travel Essentials:
Pssst…Before you jet off to idyllic Greece, be sure you have all your essentials packed by reading our European packing guide.
Is October a Good Month to Go to Greece?
October offers many reasons to visit Greece. It's during the shoulder season, so prices are lower, crowds are thinner, and beaches have more open space. The month also sees comfortable temperatures.
The country does see more rain as the month progresses, but it's not so much that it would ruin a trip.
Overall, October is a fabulous month to visit the Greek islands and soak up the autumn sun.
Is Greece Hot in October?
Cooling down from summer, October is warm enough to enjoy island life without being uncomfortable. It's not yet cold enough to need layering and jackets, but still cool enough to enjoy outdoor activities such as hiking.
What's the Weather Like in Greece in October?
The average temperature in Greece in October is about 20°C, however, each island and city will differ slightly.
Athens Weather in October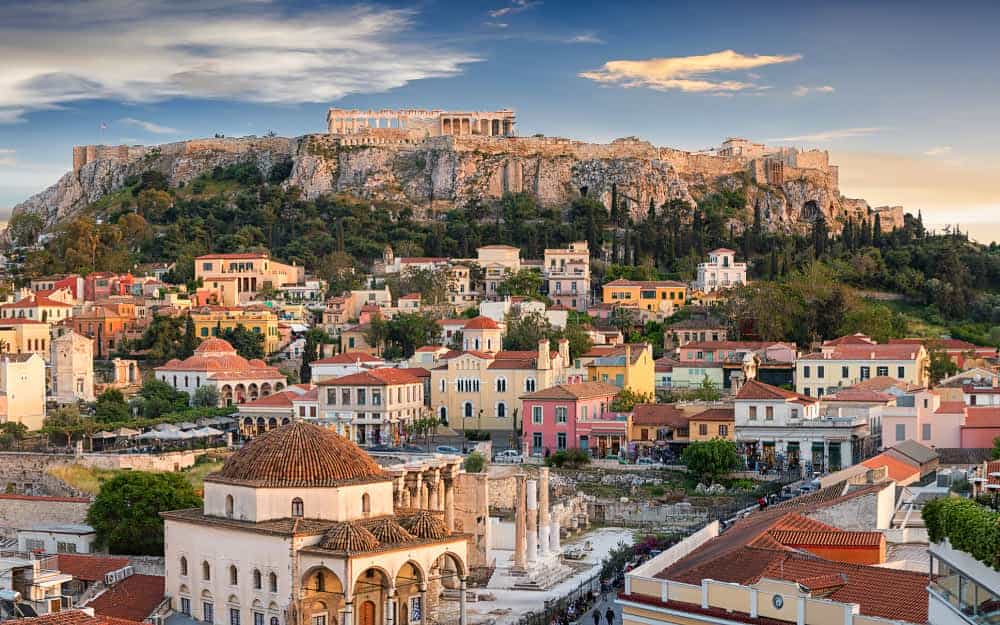 Athens is the ideal spot to spend a Greece vacation in October. Temperatures range from lows of 15°C and highs of 23°C, and there's hardly any rain.
This is one of the best times to do walking tours of the city, thanks to the pleasant sunshine in Athens in October. And the usually busy Athens attractions will be quiet enough to enjoy fully.
Best Things to Do
You can't go to Athens without visiting the iconic Acropolis. Admire the historic ruins and visit the museum to learn more about the history of the archaeological site.
See the Panathenaic Stadium and marvel at the impressive structure.
Take the funicular up to the summit of Mount Lycabettus and then enjoy the splendid views before taking a slow stroll back down.
Halkidiki Weather in October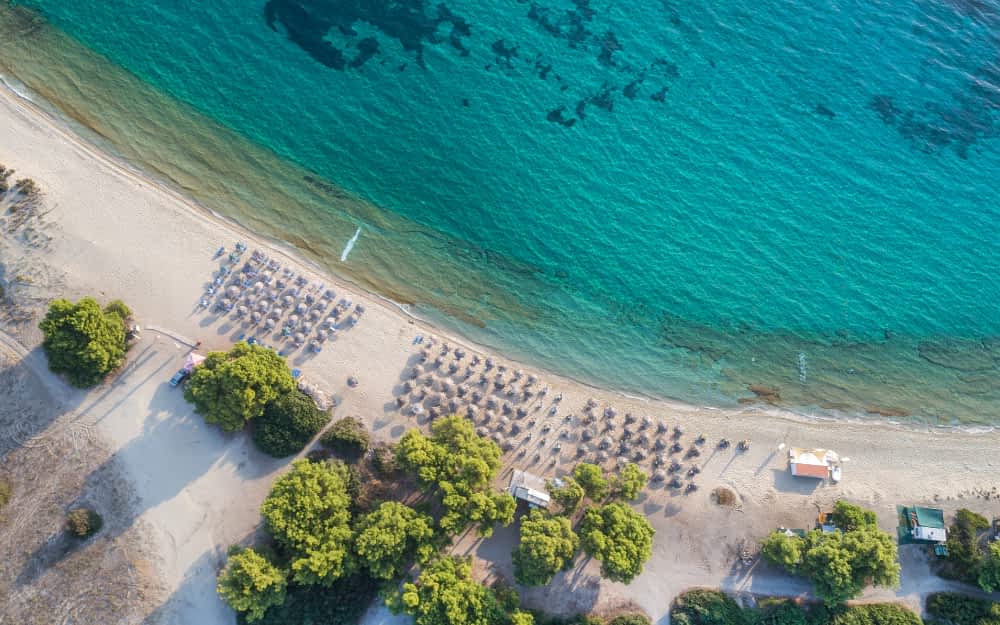 This gorgeous region offers temperatures of 9°C to 19°C in October, with plenty of sunshine and minimal rain. Sea temperatures around the area see an average of 22°C, providing enough warmth to make swimming and watersports enjoyable.
There are plenty of places to choose from when visiting the Halkidiki region, with many things to do in each area.
Best Things to Do
Experience Kassandra at night. This peninsula has an abundance of bars, nightclubs, and restaurants where you can enjoy the autumn evenings and let loose.
View Mount Athos from the sea. It's incredibly hard to get an 'appointment' to visit this historic monastic region, so a boat trip out to enjoy the views is the best way to see it.
Visit Aristotle Park, at its impressive 500-metre altitude and learn more about the Greek philosopher that the park is dedicated to.
Mykonos Weather October
Mykonos is a glorious, year-round destination, but Mykonos in October offers an especially enjoyable time. The island enjoys temperatures from 18°C to 22°C, and the sea is just as warm.
You may find some hotels and restaurants closed already in October, as the tourist season starts to fade. But there's still plenty to enjoy on this paradisal island.
Best Things to Do
See the windmills in Chora, an iconic scene in Mykonos. The windmill of Boni – one of the seven preserved mills – has been turned into a museum showing the history of these structures.
Take a cooking class and gain new culinary skills to take home with you. Learn how to make some of the mouthwatering Greek food that everyone loves so much.
Explore Little Venice, with its colourful houses and quaint restaurants and bars. Resembling the actual Venice, this neighbourhood is a popular Mykonos attraction.
Santorini Weather in October
Days are mild and pleasant when visiting Santorini in October. There is a small chance of rain, but temperatures stay between 15°C and 22°C. With fewer crowds and plenty of sunshine, this island is a paradise during autumn.
The beaches are still popular in October, and sea temperatures are still around 23°C, making swimming, snorkelling, and watersports fun. Do you need any other reasons to visit Santorini in autumn?
Best Things to Do
Go kayaking, canoeing, or anything that includes spending hours on the beautiful Santorini sea. Watching the sunset is a breathtaking experience from this island.
Enjoy a wine tasting tour. The island has 18 wineries, and many argue that they produce the best wine in Greece – you may as well decide for yourself.
Rent a car and take a drive to Akrotiri Lighthouse, marvel at the stunning building as well as the breathtaking views over the cliff.
Corfu Weather October
With average highs of 23°C, Corfu weather in October is a pure dream. The lowest temperature you're likely to experience is only around 13°C, and that's only when the day starts to cool down.
So this is a brilliant place for outdoor activities. You can expect more rain in Corfu during this month, and humidity levels range from mild to moderate.
The beaches still get a lot of attention in Corfu in October, and your bathing suit can be used thanks to the average 22°C sea temperatures.
Best Things to Do
Discover The Governor's olive mill and learn all about the process of making this award-winning olive oil.
Enjoy the nightlife in the Old Town – visit one of the many bars to experience mezes, music, and merriness with the locals. There's also plenty of beer to go around.
Stroll through Mon Repos Estate and appreciate the gardens filled with flowers, trees, and other plants.
Crete Weather in October
Autumn brings pleasant weather to Crete, with some rain as well. The average temperatures range from lows of 14°C to highs of around 24°C. Sea temperatures in Crete stay at a comfy 23°C for most of the month.
Crete's tourist season officially closes on 31st October, so you have the whole month still to enjoy many of the activities, restaurants and hotels, but without too many other tourists, meaning a stay in Crete in October is the perfect time to make the most of this gorgeous island.
Best Things to Do
There's nothing better than lazing on one of Crete's idyllic beaches and taking full advantage of the warm weather.
Trek Europe's largest gorge, Samaria Gorge. Pack a water bottle and sunscreen and enjoy a guided trek in the gorge, feasting your eyes on the natural beauty around you.
Take a discovery tour around the island and explore the many archaelogical sites and ancient churches scattered throughout Crete.
Check out this list of things to do in Chania for more inspiration.
Kos Weather in October
Kos sees an average high of 23°C and lows rarely reach anything less than 17°C. The average sea temperature in Kos in October is around 22°C. You can expect around 5 days of rain throughout the month, but the weather can be a bit unpredictable.
Tourist season in Kos is open until November, so while the island is quieter, there's still plenty to do.
Best Things to Do
Visit Neratzia Castle, built by the knights to protect the island. Mostly in ruins, this is a great place for history and architecture enthusiasts.
Explore the underwater world on a scuba diving excursion just off the coast of the island.
Picnic with peacocks in the Plaka Village. The pine forest on Kos, named Plaka, has a large area that's home to peacocks and tortoises running wildly.
Which is the Hottest Greek Island in October?
While all of the Greek islands have splendid Mediterranean weather in October, Crete is usually the winner when it comes to high temperatures.
The island's south coast boasts the warmest weather, but the whole island starts to cool down towards the end of October. And if you're looking to avoid thunderstorms and showers, the southeast coast is where you want to be.
Greece in October Packing List
Now that we've confirmed how great Greece can be in October, let's make sure you have everything you need in your luggage. Here's a basic packing list for your Greek vacation.
Light jacket – it's going to be warm, but it may get chilly in the evenings, so pack something light that you can throw on if you get cold during dinner.
Shorts and shirts – for the day time. Or flowy day dresses if you prefer. You can survive much of your October getaway wearing casual clothes fit for a mild autumn.
Pants and a sweater – once the sun goes down, you may find it too cool for your daytime shorts, so pack a pair of casual pants to wear. A light sweater is also great for mornings and evenings.
Hiking clothes and shoes – if you're a hiker, this is a great activity for an October vacation in Greece. Make sure you're properly equipped before you leave.
Hat – keep the sun off your face and look stylish at the same time with a hat. This is especially important if you're going to be out in the sun most of your day.
Bathing suit – don't waste the opportunity to dip into Greece's crystal clear waters. The sea temperatures are still warm enough to enjoy during the day, although at times they may be a little crisp.
Sunscreen – it may not be summer, but the sun is still out. Pack a good sunscreen that will keep your skin protected while you frolic in the waves or explore the ancient historical sites.
Rain jacket or umbrella – this is more of an 'in case' item, which you can buy once you're there, too. But if you like to be prepared, add one into your bags.