Travelling to the Danish capital and looking to explore the city like a true Dane? Then look no further than this guide, outlining 10 awesome Copenhagen hidden gems worth visiting!
Copenhagen is a well-known European capital with beautiful castles, canals and iconic architecture. The city swells in the summer with Baltic cruise tourists and in the winter months for those seeking the magic of Christmas markets.
There are countless museums and the famous Tivoli Gardens to entertain visitors, but the city is also home to plenty of offbeat attractions and activities. Whether you're planning to visit Copenhagen for 3 days, or longer, here are 10 of the hidden gems Copenhagen has to offer that should be on any itinerary to the Danish capital.
Disclaimer: This post contains links to services or products that I trust and recommend and from which I may earn commissions. Read our privacy policy for more.
Before you go, be sure to plan & book your European Travel Essentials:
Pssst…Have you packed all your essentials? Make sure to read our European packing list guide to ensure you've ticked all the packing necessities off your list!
Reffen Street Food – Street Food Copenhagen
One of the best-kept culinary secrets of Scandinavia is that Copenhagen street food is fantastic. From classic indoor food halls to pop-up food truck squares, the city is flush with delicious quick-serve treats.
If you're visiting the city from April through October, a trip to Reffen Street Food park, a staple Copenhagen food market, is a must! It's located directly on Copenhagen harbour, opposite the historic city centre. It's not the easiest place to reach, but by biking, bus or water taxi you can be there in about 20 minutes from the city centre. The foodie paradise features 41 food stalls with tastes from around the world.
There are also frequent events with live music, DJs and other performers keeping visitors entertained. It's one of the best places in the city to watch the sunset and enjoy a beer on the waterfront of Copenhagen Harbour.
What are you waiting for? Indulge in the gastronomic delights at this awesome street food market in Copenhagen.
Top Tip: Round out your visit with a 4-hour Danish Foodie Tour where you'll get to sample some of the best and most traditional flavours of Copenhagen!
CopenHot
If you make it to Reffen, stick around and book an experience next door at CopenHot. It's also located on the harbour, just north of the street food hall and features woodburning hot tubs, a cold plunge and sauna.
Scandinavian sauna culture is well known around the world and this local favourite is a great way to jump into the scene.
Visitors are treated to 90-minute sessions where they can mingle with other guests and enjoy the hot tubs, sauna and even jump into the cold waters of the harbour. They also offer private use of the facilities and even have a hot tub boat that you rent with a group of friends to tour the waterways of Copenhagen.
Rent a Boat
The canals of Copenhagen are a brilliant attraction to explore by boat. Many visitors book a canal tour to get acquainted with the city's architecture and sites. It's informative and a guided tour can come in handy, but to experience a more laid back and authentic cruise, rent your own boat.
There are two main electric boat rental providers in Copenhagen, GoBoat and FriendShip Boat. They allow visitors to chart their own course with a one to three-hour boat rental to tour the canals, harbour and waterways around the city. Both companies provide boats with a table in the centre, so it's ideal for a floating picnic as you tour the city from the water.
Visit a Board Game Cafe – Unique Things To Do In Copenhagen
During the winter months in Copenhagen daylight is scarce with the sun setting as early as 3:30 p.m. As a result, the social culture has adapted with a love of candlelit pubs, cosy fireside cocktail bars and board game cafes.
In Copenhagen, you'll find several venues where you can reserve a table to gather with your friends, sprawl out on comfortable couches and enjoy board games. Working at the cafes are "board game connoisseurs" who act as your guides and concierges. It's one of the best things to do in Copenhagen in winter or a rainy day and it's a very authentic and hygge activity.
Rosnaes Wine Region
You may not think of Copenhagen or Denmark when it comes to wine, but SURPRISE – Denmark has a wine region. This is due to advances in wine production and global warming, Denmark has a growing number of vineyards.
If you're keen to visit a winery in Denmark, you can take the train to the Rosnaes peninsula, about 45 minutes outside of the city. It's a beautiful destination with coastal charm and a microclimate that results in just enough sunny days to support an emerging wine industry.
Dyrehoj Vineyards is the largest wine producer in Denmark and they offer tours, tastings and year-round events. A perfect excuse to sample the best Danish wines on offer!
The Beaches of Copenhagen
Another travel attraction and Copenhagen gems that you wouldn't associate with Copenhagen is a white sand beach, but they're there and you should visit them.
Just south of the city centre, you can find the lovely Baltic Sea beachfront of Amager Strandpark. The park is a short walk from the M2 metro line and features 4.2 km of beach along a manmade island off the coast. It's connected to the mainland by scenic bridges and off the coast, you can see the Middelgrunden wind farm.
While the waters aren't as warm as Spain's Costa Brava, the soft sand is wonderful on a sunny day and you can enjoy a swim in the offbeat Baltic waters.
Climb the Spire of the Church of Our Saviour
Any time you visit a new city, getting a birdseye view from above is a good idea. In Copenhagen, the most popular place for tourists to take in a view is the historic Round Tower in the city centre. While it's a lovely attraction, get a little offbeat and climb the unique Church of Our Saviour.
What makes the church unique is that you can climb to the very top of the structure because the spiral spire is actually an exterior staircase. If you don't have a problem with heights, it's the best way to see the city from above and a thrilling climb.
From the top, you have a wonderful view of the Christianhavn canals that you won't see from the Round Tower. At the top, you can even see Sweden across the sound from the Danish coast.
Oldest Gay Bar in the World
Denmark is an incredibly progressive society and even performed the first same-sex civil union in 1989. You can find out more about that history in the National Museum, and then enjoy a beer at the oldest gay bar in Copenhagen and in fact the world.
Visit Central Hjornet, a cosy pub in a house that's stood since 1802 and has continuously been a gay bar since 1917. It's a perfect offbeat place for a drink and they're straight-friendly so everyone is welcome.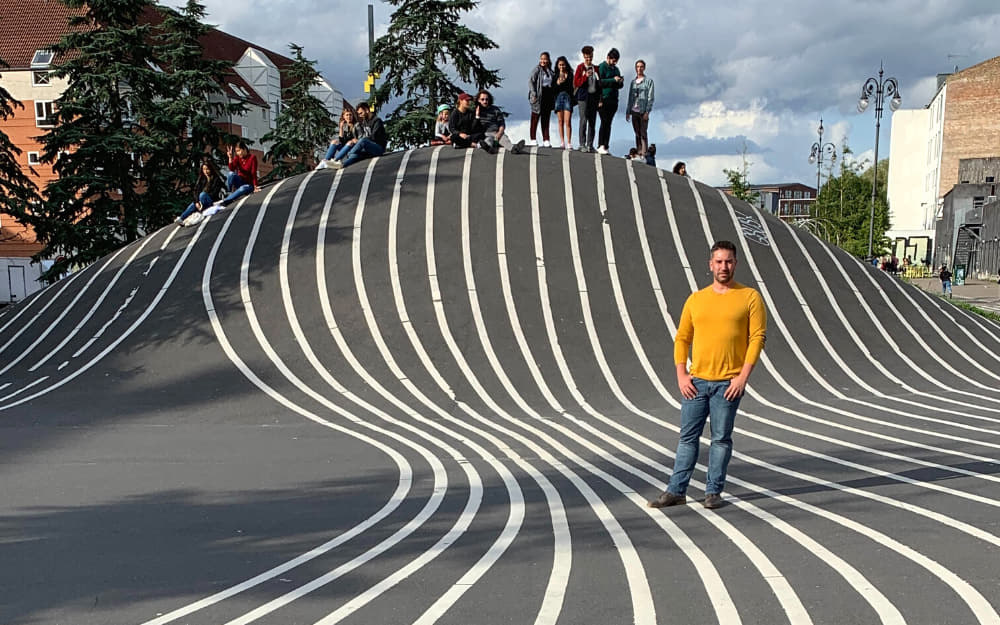 One of the best things about visiting Copenhagen is the abundance of green spaces and parks in the city. Among the most unique parks is Superkilen, located in the Norrebro neighbourhood. One of the best hidden gems in Copenhagen.
The area of the city is one of the most diverse and under-privileged sections of Copenhagen. Superkilen park was designed to be a place that brings together the local community with the refugee community in Copenhagen.
Elements of the park were designed with influences from countries around the world like a fountain from Morocco and sculpture from Japan. The park is beautiful in appearance, but the mission of tolerance makes it a truly special place to visit in Copenhagen.
Restaurant Puk
If you're looking to try a traditional Danish meal, Restaurant Puk is one of the best places to visit in Copenhagen. It's located in an 18th-century basement that has always been a popular watering hole in the city. In fact, King Christian IV is alleged to have met his mistress at the location of Restaurant Puk and one of his original brewing recipes is on tap.
Puk is also an ideal place to try the traditional Danish Christmas meal. If you visit in the winter months, make a special trip to sample the meal and pair it with a nice glass of Danish snaps.
Without a doubt, Copenhagen has some of the most exciting attractions in the region. Still, it's always fun to find authentic local experiences that can bring you closer to the culture of the city. This list should set you up with a few lesser-known gems in Copenhagen to spice up your itinerary.
Post Contributed By:
Derek Hartman and Mike Walsh are an American couple who now live abroad in Copenhagen, Denmark. They're the creators behind the website and YouTube channel Everything Copenhagen where they share content on travelling to their city of Copenhagen.