Visited Greece and in search of the best souvenirs from Greece to remember your holiday by? Look no further than this Greece Souvenirs guide where I'll cover what to buy in Greece!
For me, Greece is truly unlike any other destination I've visited before and has retained a very special place in my heart. On our visit to Greece, we spent a few nights in Athens before embarking on a Greek island-hopping adventure, visiting stunning Mykonos, Naxos, and Santorini.
We were so enthralled by Athens, as well as these incredible Greek Islands, that we simply had to buy a few Greece souvenirs to take back home and to remind us of the amazing holiday we had. Till today, one of my favourites is the large Greek evil eye we had framed and still has pride of place in our home today!
In this guide, I've decided to compile a list of 14 of the best Souvenirs in Greece, so you can be on the lookout, hopefully inspiring you to buy a few of these throughout your travels too!
Disclaimer: This post contains links to services or products that I trust and recommend and from which I may earn commissions. Read our privacy policy for more.
Pssst…Before you jet off to idyllic Greece, be sure you have all your essentials packed by reading our European packing guide.
Best Souvenirs from Greece
The best Greece souvenirs are locally-made, capture an element of Greek culture or remind you of a holiday memory. Try to find these classic Greek souvenirs.
1) Worry Beads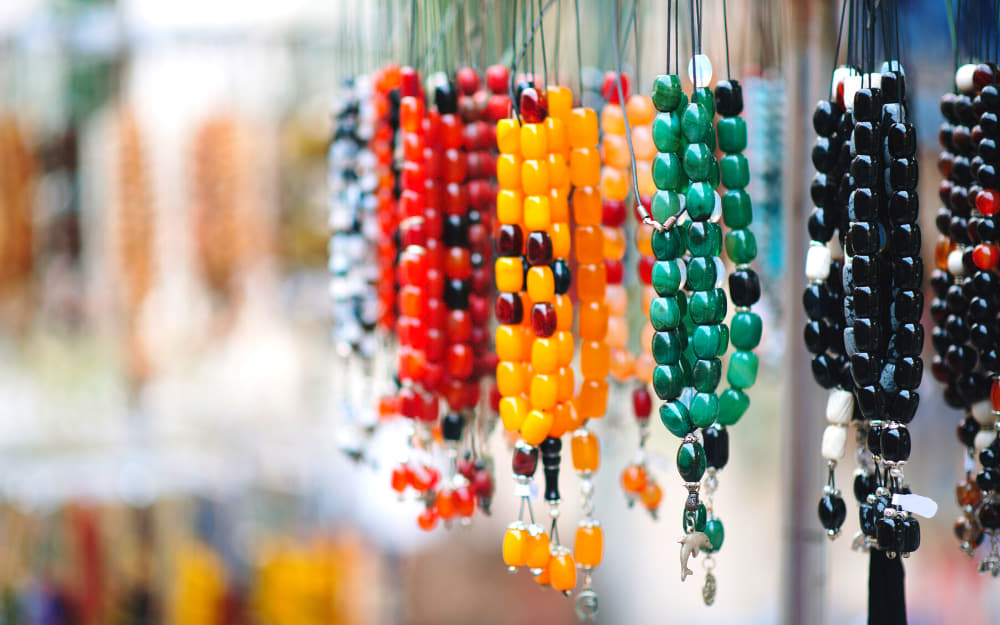 In every small town square, you'll see older men & women constantly swirling a string of beads between their fingers. This strand is komboloi, or worry beads. Traditionally, they're used to pray with intention, but they're now popular mindfulness tools.
You'll see komboloi for sale across Greece. There are fun ones made of cheap plastic beads, but you can also get some upmarket ones made of glass and ceramic beads.
2) Olive Wood Objects
The hardy olive tree grows throughout Greece and occupies an important place in Greek history and culture. After she gifted them an olive tree, symbolising peace and prosperity (olive wood is a great Greek souvenir in Athens), the Athenians named their city after the goddess Athena. Olympic victors were also crowned with olive leaves.
Olive wood is beautifully smooth and is used widely. You'll find mortars-and-pestles, honey pots, bowls and more made from the material. This is an unassuming Greek souvenir that carries lots of meaning.
3) Religious Icons
The Orthodox Church has a prominent place in Greek culture. The interiors are unlike those of Protestant churches, with an intimate, richly decorated interior. The pictures of religious figures are crafted with carefully wrought gold and silver.
Contemporary artists study this method of painting which dates back to the Byzantine Era. If you've visited a stunning Orthodox cathedral or monastery, such as Meteora (which is one of the top landmarks in Greece), then religious icons are ideal Greek presents.
4) Greek Ceramics
Greek pottery, which depicted mythology, daily life and important events, was a hot commodity back in the ancient world. You'll spot a lot of replica designs in both museum gift shops and souvenir shops. Why not visit the National Archaeological Museum and get a copy of your favourite piece?
But there are also lots of modern artists making simpler styles with a laid-back island feel. Just make sure you wrap the items up nicely, so they don't break during your flight!
5) Tavli (Greek Backgammon)
When you see an old man with worry beads in a cafe, he's likely playing Tavli. This is the Greek version of backgammon which is wildly popular, among the youth as well, around the country.
This is one of the best things to buy in Greece. You can host a game night when you get home and recount your journey as you teach them the game.
Edible Things to Buy in Greece
For a taste of Greece to take home with you, these are the best souvenirs for you. You'll find many of them on a walking foodie tour of Athens, one of the top things to do when visiting Athens!
6) Greek Coffee
Creamy and nutty, Greek coffee is a ritual observed throughout the country. Even if you're only on a short trip, you're guaranteed to taste this delicious drink, so it's one of the loveliest gifts in Greece.
Greek coffee is made by mixing the coffee with the sugar in a briki, a specially-sized metal pitcher, which is heated on the stove until the liquid begins to foam. Making the drink the traditional way at home is sure to take you right back to Athens.
7) Greek Sweets
Who knew how sweet food could taste without artificial sugar? The Greeks are expert confectioners, using local ingredients and ancient Byzantine and Ottoman techniques.
Baklava is undoubtedly irresistible, but it's hardly the only sweet treat to take home. Halva, which is produced with tahini, semolina or cornstarch, is another easy souvenir. And don't forget a kilo or two of melomakarona, the sticky, orange-flavoured Christmas biscuit.
8) Greek Spirits
On most of the menus, you'll peruse on your holiday in Greece, you'll spot a number of local spirits. If you want a memento of fond memories of a meal or night out that you had, a bottle of spirit liquor is an excellent souvenir from Greece.
Ouzo is one of the most famous Greek drinks, and one of the most popular souvenirs from Greece. It's an aniseed-flavoured spirit that originated in the monasteries. But you could select raki, which is fermented fruit, or tsipouro, residue from the winepress.
9) Olives and Olive Oil
Greece exports its olives and olive oil around the world and has done so for centuries. Going to a farm or market and picking up some yourself is an unforgettable experience that will leave you with a unique Greek keepsake.
Kalamata olives, the small pale purple ones, come from the eponymous town in the Peloponnese. For a rarer variety, try the Amphissa olive which grows near Delphi. Agourelaio is a special kind of olive oil, made with unripened green olives. It's best eaten raw on bread to appreciate its peppery flavour.
Of course, taking a day trip to Delphi or Mycenae isn't something you'll regret, but you can easily buy olives in the Athenian markets.
10) Honey
Greek Gifts for Her
We all have a Greek goddess or two in our lives. So, remember to treat the special ladies in your life to some gorgeous Greece souvenirs when you're shopping in Greece.
11) Olive Oil Beauty Products
Isn't it incredible that olive oil is so versatile? Not only is it a classic ingredient but it boasts lovely beauty properties, too. So, you'll find it in many cosmetic products, along with local goat's milk.
Crete is only known for its beautiful Cretian beaches or the numerous things you can do in Chania! Olive oil soap is an especially good idea if you're visiting Crete since this is the place it originated from. However, you'll find olive oil shampoos, creams and beauty oils in souvenir stores around the country. These beauty products are the best gifts from Greece for her.
12) Evil Eye Jewellery
Mati, or the evil eye, is a familiar icon on Greek souvenirs. Wearers believe it protects them from jealousy and other evil spirits. Many Greek houses display the sign above their front door, but it's a thoughtful design for jewellery, as well.
Hawkers at nearly every famous Greek landmark will sell plastic jewellery with mati. You can also find glass beads in the mati design, which make for lovely bracelet charms.
13) Gold Jewellery
Whether you toured Vergina's Tombs or meandered around the National Archaeological Museum, you'll have seen that the Ancient Greeks had a treasure trove of gold jewellery. The Byzantines, too, had a penchant for gold. Today, there are many gold jewellers ready to create some unique gifts from Greece.
In many archaeological museums, you'll find a gift store with replicas of the jewels you see in the many archaeological museums. This has extra-special significance. But you could also pop into one of the jewellers in Athens to look at Byzantine and modern designs.
14) Leather sandals
Leather is a common material in Greece. While you can get almost anything made of Greek leather, sandals are a fun option because they echo Ancient Greece's fashion. You'll see plenty of stores that claim to sell leather sandals, but the quality varies a lot.
It's best to stick with a reputable brand, such as Melissinos Sandals. This Athens family-owned business has crafted sandals for Jackie O, John Lenon and the King of Spain! These sandals are lovely Athens souvenirs.